Customer Style
Frame Specifications
Blue Skies: Dyad Optical 09 is a polished prussian blue acetate, hand-polished to a perfect finish. Brick Aluminum inlays complete the elevated look. 
Frame:  Polished Prussian Blue Acetate
Signature Side Inlay:  Brick Aluminum
Description
Divine Dyad: Dyad is a classic acetate frame with round lenses and a keyhole bridge which is meticulously handmade in Japan. The Dyad shape was designed to be flattering on all faces. Its super-durable construction and smooth, high-quality hinges ensure these will be your favorite shades for years to come. 
Accessorize your Westward Leaning Dyad glasses with additional clips that simply attach to any Dyad frame. Pair one or more of these clip-on accessories with any of our Dyad frames. Designed in San Francisco and Handmade in Japan.
Giving Back
15% of net proceeds from the sales of our Optical collection will go to support the Northern California Chapter of Vision to Learn. Vision to Learn provides free eye exams and glasses to children in low income areas. Learn more about Vision to Learn here.
Check out our social mission and charitable commitment here.
*Prescription Lenses
White Glove Rx Service: If ordering with prescription lenses, a member of our specially trained optical team will email once your order is received to obtain your prescription and will be on hand throughout the whole prescription process. Once your prescription is received, the order should ship within 10-14 business days.
All prescription lenses are made with high-quality and impact resistant polycarbonate material that blocks 100% of UV rays and includes an Anti-Reflective coating.
The Dyad frame is perfectly described by its name, "Dyad," meaning the combination of two elements, in this case the round frame and accessory clips. This versatile, retro-cool shape celebrates styles of the past and establishes trends of the future.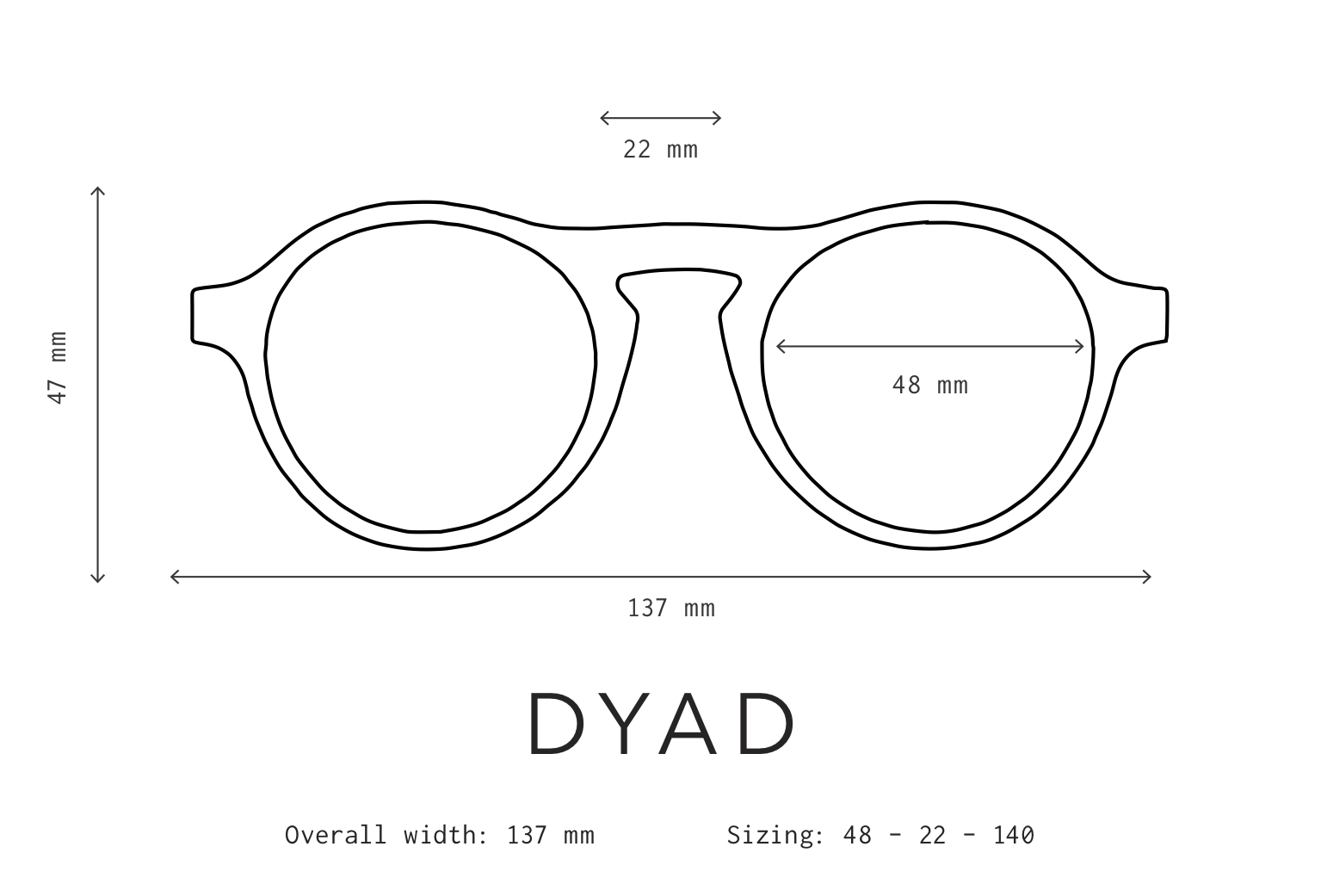 All Westward Leaning sunglasses are designed to be flattering and comfortable on every face. Our handmade acetate frames are highly adjustable for the perfect fit, from very loose to very tight. Learn more about how to adjust the fit of your glasses here.
Curious about relative sizing? Compare our frames here.
Still not convinced? Rest assured, shipping and returns are always fast, free, and super easy.